Updated on Jan. 17, 2022
Learning How To Relax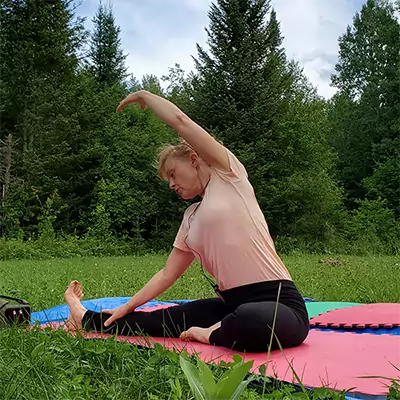 When I began doing Essentrics™ for my own health and well being, I heard Miranda Esmonde White (creator of Essentrics™) say something that resonated with me. She said most people who like to exercise work too hard. She also said that one of the hardest things for Essentrics™ instructors to learn is how to relax.
At the time I knew what she said was true. What I have come to realize since then is that I only understood it intellectually. I didn't really understand on a physical level what that meant. Our whole cultural attitude when it comes to any form of physical exercise is to push ourselves to the point of pain and exhaustion.
This is one of the reasons so many people give up on exercising after one or two workouts. The fitness industry has made physical exercise seem like it's only for people who can handle the intensity of a military boot-camp or cross-fit or power lifting. There's nothing wrong with those types of workouts as long as they're done safely, but what's unfortunate is that because of the perception in our culture that working out is only for the "hard body" or the "beach body" so many people avoid exercise as a regular part of their lives.
Exercise is preventative medicine. Every single human being lives in a body. That body needs movement to circulate blood, fluids and oxygen to our cells. It also needs circulation to remove toxins, debris and dead cells, which if not removed can become cancerous or lead to strokes.
As someone who has worked out most of my life, having a dance and martial arts background I have been one of those people who puts my body through stress. Relaxation has always only been something I feel after the workout. All of my physical activity has caused me to have overuse issues with some of my connective tissue. The options were always to just keep pushing through the injury or to stop the activity altogether.
When I discovered Essentrics™ it was the first time that I could start rethinking exercise and movement. I started understanding that there has to be a balance between stress and relaxation. This is the most natural way to move considering this is how our bodies function in our daily living activity. We are constantly shifting between contraction and release. Consider how we walk we alternate between putting weight onto each foot, and leg while releasing the other side.
Relaxation is also necessary to increase flexibility which allows blood flow into the muscles. Blood flow is necessary to strengthen muscles. Therefore relaxation is an important part of building strength in a safe and long lasting way. If muscles are stressed too quickly before they're ready injuries will occur and will only prolong the process of becoming stronger and healthier.
As I continue on my Essentrics™ journey, I deepen my understanding of how my body responds to movement. Relaxation has become an important part of my own exercise regiment.
Relaxation is the new strength.